Living in mudslide country
Since Fall 2006 when I did a residency in North Cascades National Park, I've realized how powerful, in an especially visceral way, water works on erosion. The Skagit River was powerfully surging in early November and washed out Highway 20 east of Marblemount, effectively marooning me and my husband in Newhalem. Jim missed work because it happened on a Sunday. WSDOT was amazing and within 48 hours had created a gravel supported alternative to a very serious road challenge.
The mudslide in Snohomish county in a small real estate development between Arlington and Darrington called Oso (#ososlide #530slide) is truly a catastrophic disaster. I've been obsessed with the news and tweets on it. There will be heartbreaking and scientifically humbling reports by both disaster preparedness managers and geotech engineers. I'm sure Governor Inslee, who along with area first responders, Snohomish county emergency management officials and FEMA, etc. want to know why there were houses built in this slide area after 2006. The extraordinary efforts of the community in rescue and recovery deserve nothing less.
I began this painting before the slide and was pretty deep into it before I heard about the sliding two weeks ago. Since then I've been relentless and probably obsessive in working on it. It is originally about the decline of glaciers in the Cascades, especially in the park where scientists have documented them with amazing detail. Like the Dry Falls of Grand Coulee, these glacial melts create drama and the sublime in this park and the accompanying sense of danger makes it all the more thrilling to visit there. With this current sense of loss, risk taking for the recovery and curiosity, I kept thinking about the heaviness of glacial till when it becomes slurry as it did in the North Stillaguamish, and its continuing transformation.
I donated this piece below to the upcoming 2014 auction at the Museum of Northwest Art in La Conner, WA. For information about the auction:
http://monamuseum.org/event/art-auction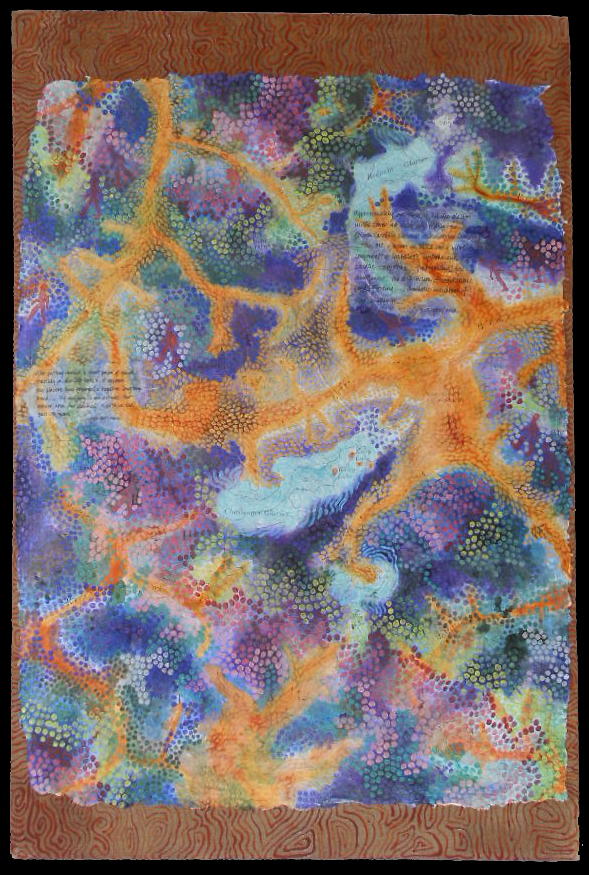 The effect of snowmelt on past cultural landscapes: Beaver Creek Trail 1976, March 2014, 61 w x 92 h cm, acrylic mixed media, digital print on Indian villages and Thai unryu papers, mounted on stretched canvas. Image is section of 1976 National Park Service topographic map of North Cascades National Park and adjacent National Recreation Areas, a map I received from park staff during residency.
The texts collaged on the surface:
Approximately one-third of all the glaciers in the lower 48 states are within the . . . [North Cascades National Park Service Complex]. . . . The 312 glaciers in NOCA are a vital component of hydrologic systems and aquatic ecosystems . . . , [influencing] soil development, the distribution of vegetation [and] flooding . . . , dramatic indicators of climate change . . . .
-nps.gov/noca
After passing through a short period of glacial stability in the late 1990's, it appears our glaciers have resumed a negative long-term trend . . . . By mapping . . . , we estimate that glacier area has declined ~40% in the past 150 years.
-nps.gov/noca
In romanticism, we experience the conflict of notions of pristine wilderness with human activity in ecosystems. Contrary to assumptions, recent discoveries in Amazon forests reveal evidence of prehistoric human agriculture. North Cascades National Park archeologist Bob Mierendorf advised that to understand wilderness, we must be open to the existence of many past cultural landscapes. I think we cannot afford to exclude human interactions on the "pristine environment" when we study the history or geology of place. Not all are malelovent as current industrial extraction. A dramatic example is in the discovery and excavation of the southern village of Makah. I can only imagine the trama to their ancestors when this disaster occurred.
Our home and my studio are in mudslide county, in North Beach, the northern area of Ballard in Seattle. The neighborhood experienced slides shortly after we bought this house twenty years ago, and some of these houses are still unsafe for residency. The city of Seattle has mitigated with retaining walls, vegetation management and cisterns, yet our basement leaks and our neighbors have springs in theirs. We have a dramatic view of Puget Sound and the air is clean and pleasant. Coal trains travel near the beaches at Golden Gardens and Carkeek Park; nearly every evening this past month, I see the lights of the Burlington Northern Santa Fe railroad workers risking their own safety to shore up the hillsides. It is complicated to live and work here; my art may be another document to this experience.